Text and photos Alan-Christopher Geslin

Golf-Herria presented its putters to Jean-Pierre Cixous, one of the (great) experts of the small game and putting in France.a former player of the European circuit and the Challenge Tour, Jean-Pierre Cixous is known in France for his experience in the field of the small game and putting. So much so that, in association with a partner and a specialist in the Grand Jeu - Guillaume Viant-Benard - they recently opened, in the Paris region, Golf Skills (78, Chavenay), a vast 600 m2 indoor training centre.
This concentrate of innovations, unique in the Paris region, includes a 100 m2 synthetic green, equipped with the Putt View system that allows the projection of slopes on the ground. Another strong point concerning putting: one area is equipped with the Sam Putt Lab and the Quintic, precious tools that allow to measure the interactions between the club face and the ball... and many other things! In short, the meeting between Golf Herria and this Indoor centre, the "temple" of putting in the Paris region, was inevitable, and it took place on 20 December 2018.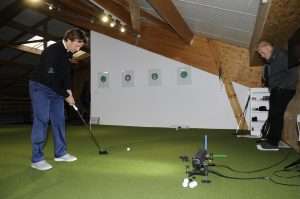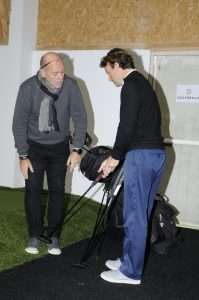 With several types of Golf Herria putters in his pocket, Christian Clavaud met the expert Jean-Pierre Cixous, who willingly lent himself to the test. He noticed the immediate rolling of the ball (by eliminating the slippage) but also the strong reduction of a possible lateral effect; the contact appeared to him "soft" and pleasant.
Another important point for him, who is very focused on a position (address) technically efficient and involving consistency: the version with the Hosel naturally corrects players who place their hands behind the putter head.
Now the idea must make its way and the Golf Herria putters may soon make their entrance in this training center. To be continued... "