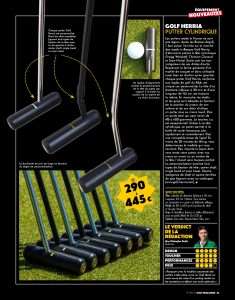 (in agreement with Ludovic Pont, editor-in-chief of Golf Magazine)
Putters made in France are not legion. After the Bretons Argolf, it is necessary to greet the arrival on the market of the made in Basque Golf Herria, astonishing putters with cylindrical head. Gregg Wolokoff, Christian Clavaud and Jean-Michel Soulé are the three instigators of these strange tools. Taking the general shape of a croquet mallet and therefore usable for both right- and left-handed golfers, each Golf Herria putter, which complies with R&A golf rules, is unique because it is personalised. The head, with a diameter of less than 30 mm and a length of 11.5 cm, is always the same. On the other hand, shafts and grips are adapted according to the player's position, rhythm and desire to use a more or less heavy putter. Hence a total weight that can vary from 475 to 600 grams. The touch is exceptional! Thanks to its cylindrical head, this putter allows the ball to roll much faster and more naturally. Hence the incredible lineage! In less than 20 minutes of fitting, you will determine the model that suits you. No matter how you hold your putter, with your hands in front or behind your head, the impact will always be perfect. Customization allows three types of head mounting: center shaft, single bend and with hosel. Four shaft categories and four grip families are also listed in the catalogue (www.golf-herria.com).
"Breaking with the ancestral tradition of flathead putters, having a Golf Herria in your hand opens the way to a putting experience centered on sensations and offering an optimal roll."
Alan-Christopher Geslin
Editor
SPECIFICATIONS
Head: cylinder with a diameter of less than 30 mm. Length, 11.5 cm.
Material: outer face in composite and "core" in different alloys.
Weight: from 475 to 600 gr depending on the shaft and grip chosen.
Grip: 4 "families" (different shapes and sizes) for a weight ranging from 55 to 125 gr.
Colour: black head. White, blue, green...